Frank Caiazzo - Authentic Solo Beatles Signatures
Frank Caiazzo - "THEE" Absolute Top Leading Authority on Beatles Autographs and major contributor to the Beatles Autograph chapter in "The Official Price Guide To The Beatles Records And Memorabilia". ALL of our Beatles and Solo Beatles autographs come with TWO (2) Letters of Authenticity for LIFE (LOA's), one from us here at www.Beatles4me.com and the other from FRANK CAIAZZO himself!!! BEWARE of the 1000's of FORGERIES of Beatles Signatures being offered on eBay!!! We strongly encourage those interested in securing AUTHENTIC/REAL/GENUINE BEATLES AUTOGRAPHS to ONLY BUY those that come with FRANK CAIAZZO's LOA's, like ours do, which can been seen by visiting our main host site at www.Beatles4me.com. We only Buy & Sell Authentic, Real & Genuine Original Beatle Autographs, Solo Beatles Signatures, Beatle Records and Beatle Memorabilia and Beatle Collectibles.
"Your #1 Beatles Source since 1977"
Updated on August 6, 2021 (Revision: A)
We are very proud to offer you
The Absolute Finest Selection
of
Original Rare Authentic Beatles Autographs, Records & Memorabilia
All items offered here are 100% Guaranteed Authentic. www.Beatles4me.com is your "Safe Beatles Website!"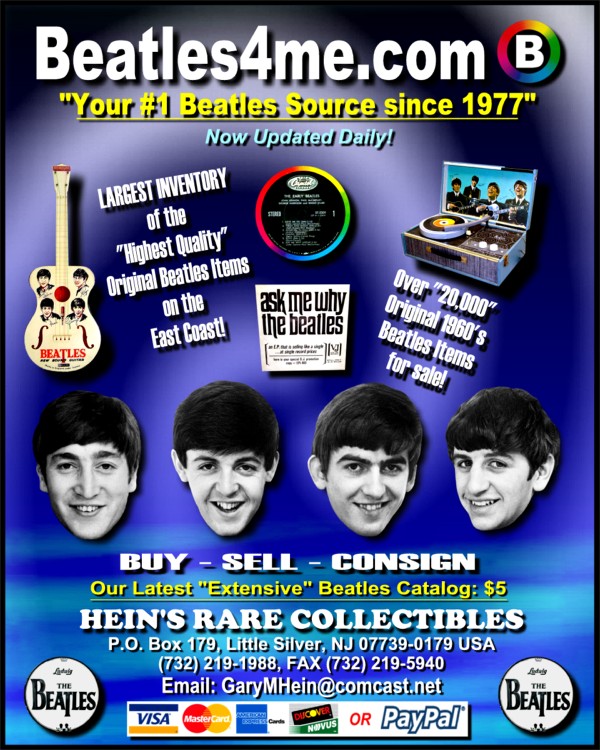 Click here to begin your "Magical Mystery Tour" of our "Extensive" Beatles Website!

Frank Caiazzo - Authenticated Beatles Autographs are available at www.Beatles4me.com
Feel free to drop us a line regarding the current status of our inventory of Frank Caiazzo Authenticated Beatles Autographs and Solo Beatles Signatures. Some of the our latest acquisitions which have been Authenticated by Frank Caiazzo are currently posted on our website at www.Beatles4me.com. As time permits, we update our website with new Beatles Inventory as it is received. Don't forget, we Buy & Sell Original Beatles Records, Beatles Memorabilia and Beatles Autographs. Click the link above and come see our "Extensive" Beatles Website, where we list much of our Beatles Records, Memorabilia and Beatles & Solo Beatles Autographs of John Lennon, Paul McCartney, George Harrison and Ringo Starr!!!
Gary M. Hein
c/o Hein's Rare Collectibles, LLC
P.O. Box 179, Little Silver, NJ 07739-0179 USA
Business: (732) 219-1988, Fax: (732) 219-5940
"You're #1 Beatles Source since 1977"
All Artwork, Concepts, Content, Design, Beatles Memorabilia & Record Photos provided on our website Copyright 2004-2021 (V210806) Beatles4me.comTM All Rights Reserved.
Use of this website constitutes acceptance of Hein's Rare Collectibles' (owners of www.Beatles4me.com) User Agreement and Privacy Policy.
No material from this website may be copied, reproduced or reprinted in any manner without prior written consent.